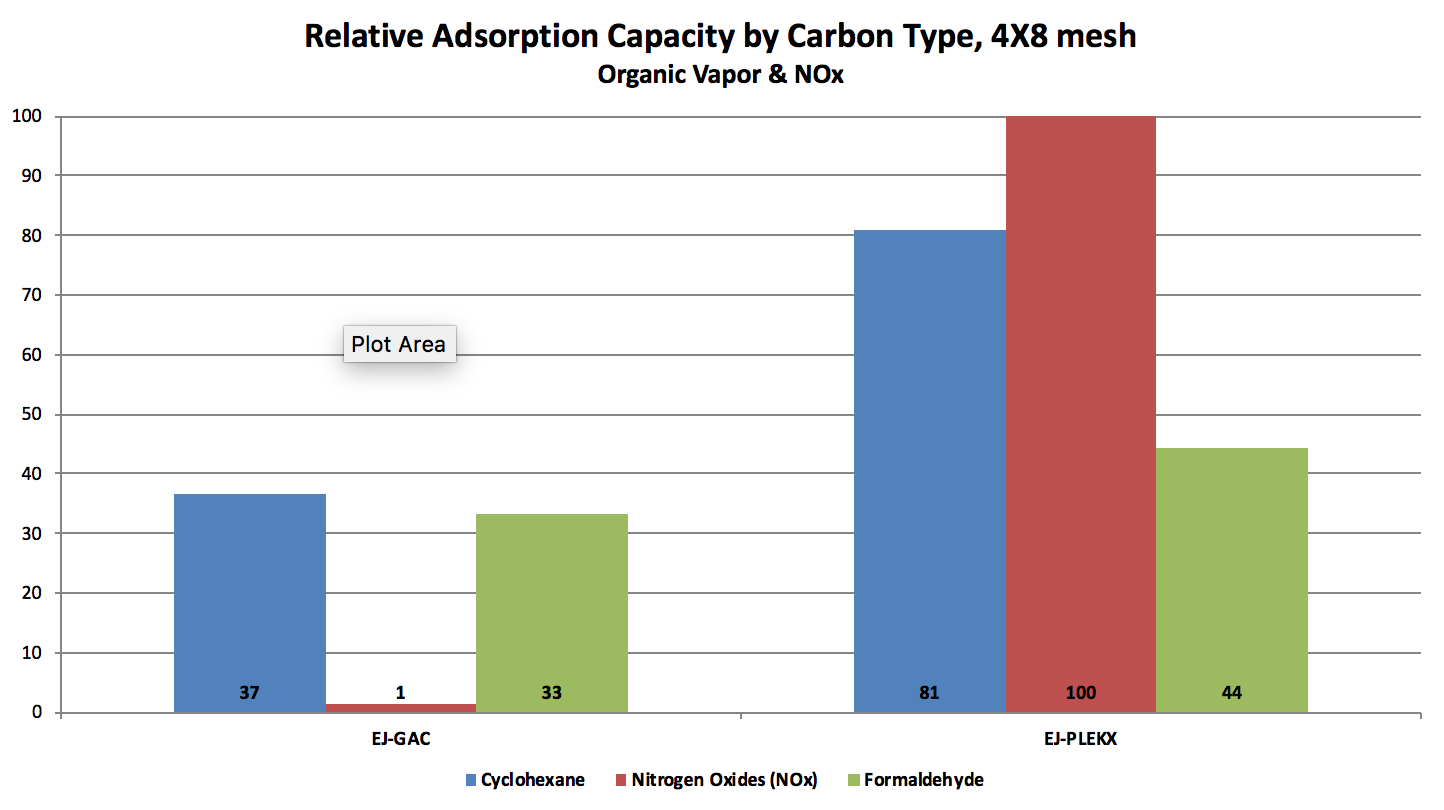 The chart above shows the carbon filtration of the new EJ-PLEKX carbon filter. In each case the EJ-PLEKX filter has much better performance.
The ability to remove Cyclohexane, Nitrogen Oxide and Formaldehyde were tested. This is to show how we perform above and beyond what you get with standard activated carbons as well as treated carbon filters. While this shows a strong improvement on our original EJ-GAC filter, that filter is better than the pure activated carbon filters on the market.
As you can see, the EJ-PLEKX has a good overall carbon for balanced performance against most indoor air contaminants. This filter has breadth of protection as well as longevity and based on our experience in this field we are not aware of a better home air purifier filter on the market.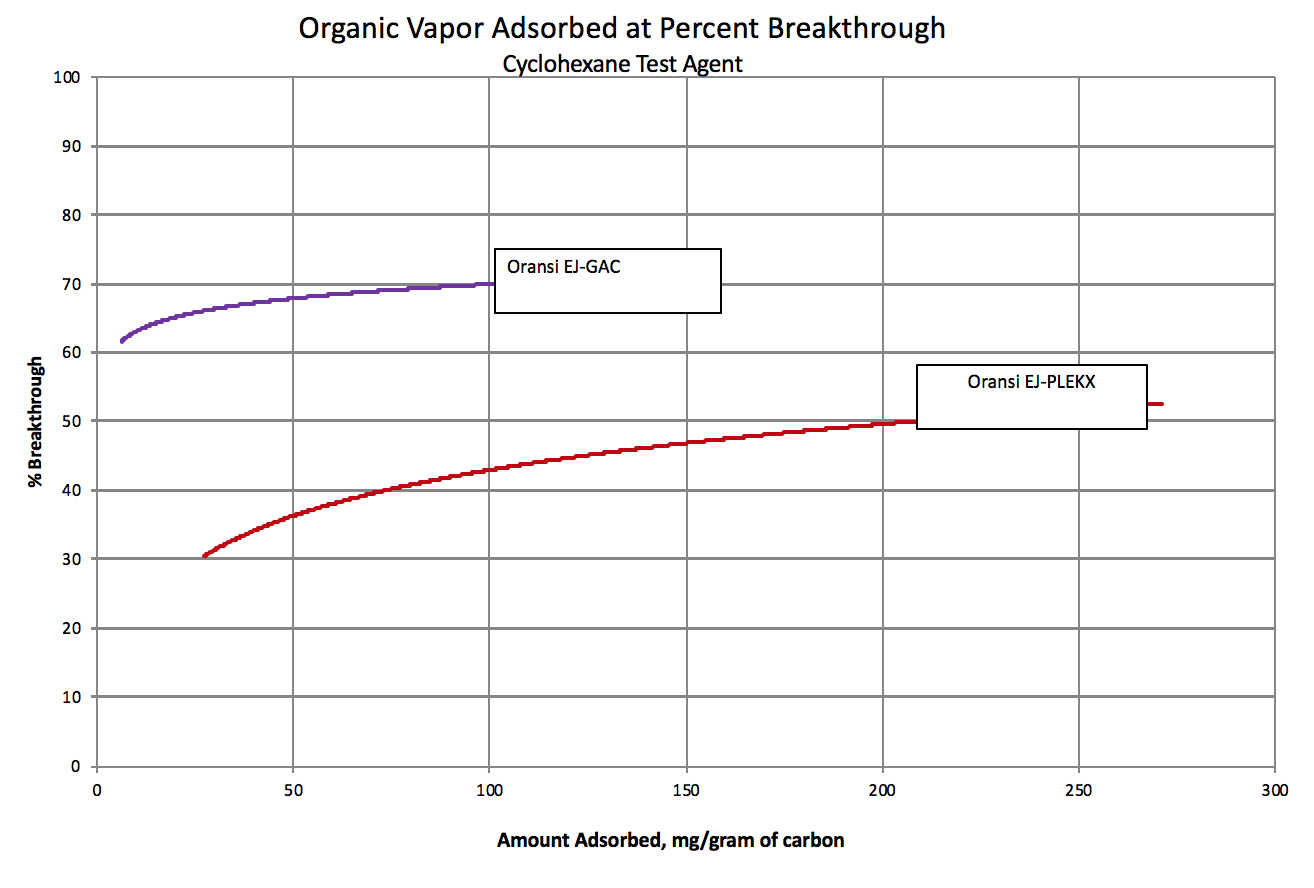 Cyclohexane is a commonly tested gas to represent organic vapors. This class of gas is physically adsorbed by the carbon, and we measure this to check the remaining capacity after chemically treating the carbon. What this data tells us is that our carbon has good adsorptive capacity for organics, even after the chemical treatment adds capacity for the other gas types not normally physically adsorbed by activated carbon.
Organic vapors are a very broad category, and can originate from paint fumes, cleaners, construction materials and outgassing, cooking, smoking, etc.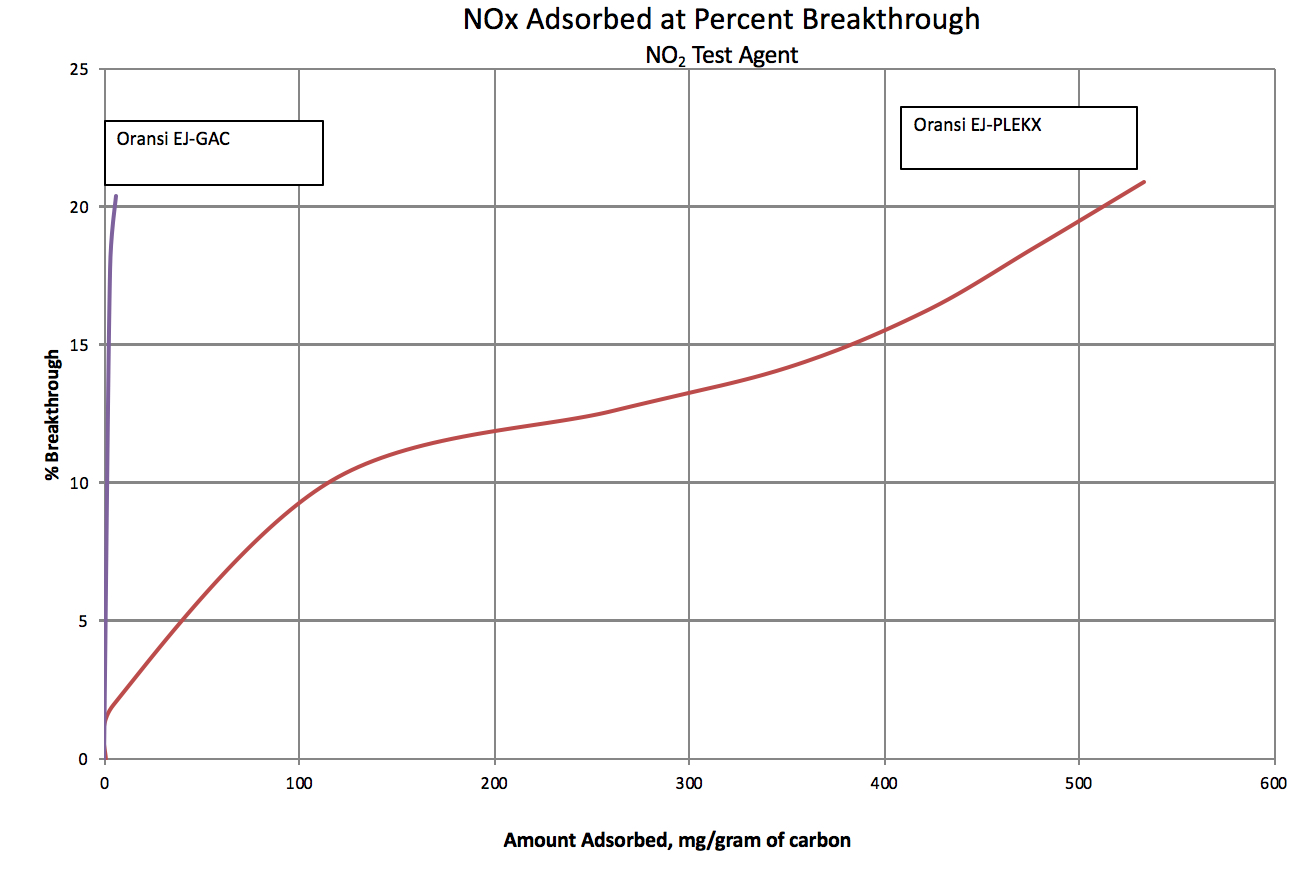 Nitrogen oxide (NOx) was tested to represent acid gases, which would also include sulfur dioxide, hydrogen sulfide, chlorine, etc. These are gases that are poorly adsorbed onto untreated activated carbon. NOx is an urban pollutant that is generated by vehicle exhaust and other combustion reactions, and some people are sensitive to it at very low levels.
Formaldehyde is a chemical that is used in building materials and to produce many household products. You will often see formaldehyde in drywall and flooring products however given health concerns we see this used less often in the US.
Activated carbon on it's own has almost no ability to remove formaldehyde. That's why we treat the EJ-PLEKX with a specialized formula to be effective for formaldehyde removal.
Wildfire smoke is a difficult application – the smoke itself requires particulate filtration which you get with the EJ HEPA filter. In addition, combustion gases can contain many different types of gases. The carbon type in the EJ120 is a good general adsorbent for most of them, and in fact a similar type is used in airport filters to pick-up the jet fuel and combustion odors for incoming air.
Table 1 in this paper on tobacco smoke lists some of the gas types that come from cigarette smoke.
The carbon we use has some capacity for a good portion for tobacco smoke, including organics, aldehydes, and acid gases. However, there are some gases that aren't removed, such as CO and CO2, HCN and ammonia capacity would be limited.