Allergies,General Health,Tips
Winter Allergies: Five Ways To Reduce Cold Weather Allergens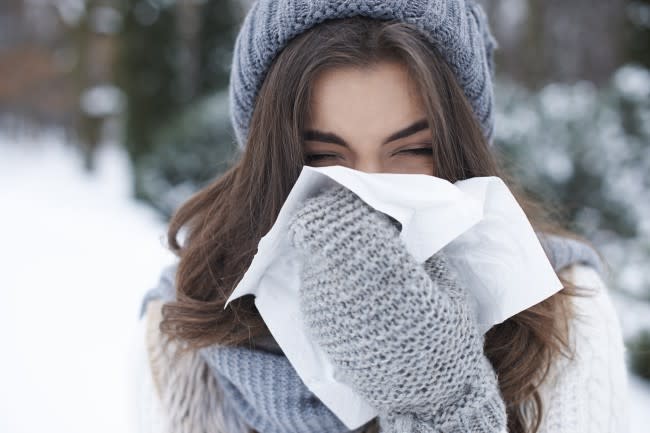 Oh, is that snow outside? Winter must be right around the corner.
Winter allergies can leave you miserable, sometimes with a runny nose or flu-like symptoms.
Learn 5 simple steps to help you feel better.
Whether you write them down or bookmark this post, these will all help reduce winter weather allergy symptoms, this year and beyond.
Winter Allergy Tips
1) Steer Clear Of Allergens
Considering the most prominent winter allergens (Pet Dander, Mold/Mildew, Pollen) are quite common in our everyday routine, staying indoors to avoid them is easier said than done. In certain parts of the country, as in the South the winter is a time for some serious tree pollen allergies. For example, in Austin where we are, the pollen from cedar (juniper) tress causes widespread allergic reactions in January.
If you can't avoid the outdoors, regularly wash your hands and face to keep pesky pet hair or mildew spores from being breathed in.
Other winter allergies arise from mold spores and pet dander from dogs. These indoor air pollutants that originate inside your home.
In this case it is important to frequently clean your home. A good HEPA vacuum cleaner will help in picking up animal dander and large dust particles.
2) Keep The House Clean from Dust
You would think in the winter that allergies would be less common. For example, pollen isn't so much of a problem since many plants aren't blooming like in the fall or spring.
However, there is one big difference.
When it turns cold, we turn on our heating systems. For many of us this means dust that has collected in the HVAC system is now blown throughout your home. Dust mite allergies are also a problem.
To help relieve a winter allergy like dust it is good to have your ducts cleaned from time to time.
Another tip is to regularly replace your furnace filters. While no one likes to replace them every few months, this is important in helping to keep your home clean and minimizes the stress on your HVAC system. It is far cheaper to replace the air filters than to use more energy to heat your home or repairs to your heating system.
3) Wash & Upgrade Bedding
Although bed bugs are most prominent in warm weather months, that doesn't mean people shouldn't keep their bed sheets clean, in the off months.
Keeping your bedding clean during the winter months will make sure you're not rolling around itchy pet hair, accumulated dust, or pollen spores tracked in from outdoors. Be sure to wash bedding and towels at least weekly to keep dust mites under control.
If dust mites are difficult to control consider buying dust mite covers for your bedding.
If the sheets are old, it may be time to replace them.
4) Use Allergy Medication
Many allergy medications can relieve symptoms like itchy eyes and a congested nose. Most are available as over-the-counter medicine.
If you're going to use allergy medicine to reduce allergies this winter, make sure to speak to your physician to ensure they match your condition. You will also want to make sure you are not suffering from the common cold as the symptoms can be similar.
From our experience, it is sometimes helpful to change brands if you find your sinuses are not relieved or the medicine loses effectiveness.
5) Use An Air Purifier
Using a residential air purifier is the most effective and hands-free solution to relieve winter allergies. For best results, we suggest a true HEPA filter. This is because HEPA filters do the best job in removing both the small and large airborne particles.
To find the right air purifier for your specific home, compare our Air Purifiers For Allergies. While each air purifier removes all winter allergies, certain models have specific features and cover different room sizes.
—–
For more information about allergy prevention, read more informative health-related content via our Blog and Learning Center.
Other articles to help with your allergies.
10 Reasons everyone needs an air purifier
Feel better from pet allergies
The link between allergies and asthma